Emeco
1006 Navy Chair (1944)
Founded in 1944 by Wilton C. Dinges, Emeco is a manufacturer of furniture, mostly known for its aluminum Navy chair. In the 1940s, Dinges obtained a huge amount of aluminum scrap metal at an attractive price and started using it to build furniture for the US Navy's fleet during World War II.
Emeco's most iconic design is the 1006 chair, also known as the Navy Chair, which was the first chair made out of an anodized aluminum material. The chair weighs about seven pounds and is guaranteed to last 150 years. Most of the original chairs from the 1940s are still in use. In the 1990s the Navy Chair found its way to the general public and in 1998 French designer Philippe Starck agreed to collaborate on numerous designer versions of the Navy chair.
Why on Wikiconic?
Heritage.
Alternatives
The Landi chair by Vitra is one of the earliest aluminim chairs: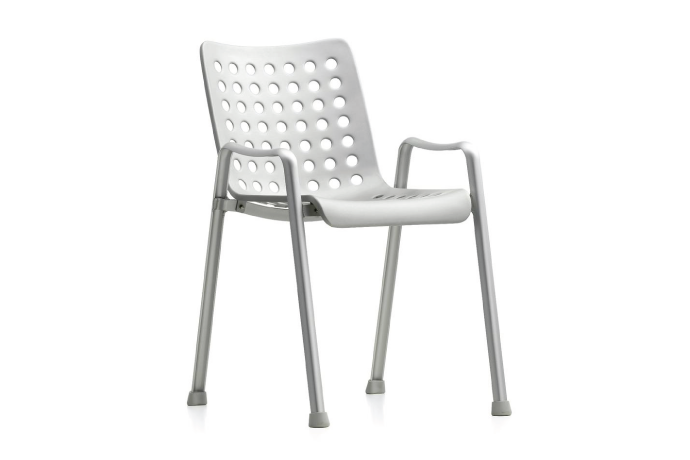 Photo credits
© Electric Machine and Equipment Company, Hanover, Pennsylvania, US
Care has been taken to trace the ownership of any copyright material and to contact the owner. The author does not intend to infringe on anyone's copyright for text, photos or otherwise. Anyone who feels that any item in these pages may have inadvertently breached their copyright should advise the author via the contact sheet, including a link to the page, so that appropriate remedial action can be taken.