Fritz Hansen
Model 3107 chair (1955), Arne Jacobsen
Designed in 1955 by Danish architect and designer Arne Jacobsen (1902–1971), the iconic Model 3107 chair is arguably the most well-known chair in the world. The chair was, according to Jacobsen himself, inspired by a chair made by Charles and Ray Eames, who experimented with a new plywood bending technique (the LCW, which also features on Wikiconic). It's not because of innovation the 3107 is mentioned on Wikiconic, it's because of its sheer success. Over 5 million units have been produced by Fritz Hansen since its inception and it is the most copied chair in the world. The 3107 is an instant success in small spaces.
Trivia:
* the chair is widely believed to have been used in Lewis Morley's iconic photograph of Christine Keeler (pictured above). After the publishing of the pictures in 1963 sales peaked. However, the chair used in Morley's photograph was in fact a copy. An original looks like this, without a handle in the backrest: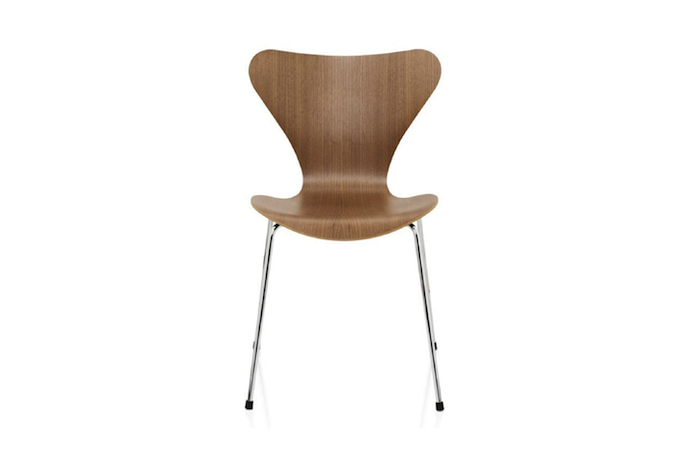 Why on Wikiconic?
Design.
Alternatives
Photo credits
© Fritz Hansen, Allerød, Denmark
Care has been taken to trace the ownership of any copyright material and to contact the owner. The author does not intend to infringe on anyone's copyright for text, photos or otherwise. Anyone who feels that any item in these pages may have inadvertently breached their copyright should advise the author via the contact sheet, including a link to the page, so that appropriate remedial action can be taken.