Deakin & Francis
Established 1786
Founded in 1786 by Benjamin Woolfield, who was later joined by Charles Deakin, Deakin & Francis manufacture the most iconic cufflinks around. Charles Deakin's nephew Stephen joined the firm together with his brother-in-law John Francis and in 1888 the name changed to the name as it stands today. Today, the company is managed by brothers Henry and James Deakin, both fully qualified as gemologists.
Deakin & Francis' signature piece is the hand painted enameled cufflink, made by using traditional methods that date back to the Pharaohs. For added snob appeal, Wikiconic would op for cufflinks with a classic chain (as pictured above) instead of the modern spring back fitting.
Pictured below are the classic enameled cufflinks: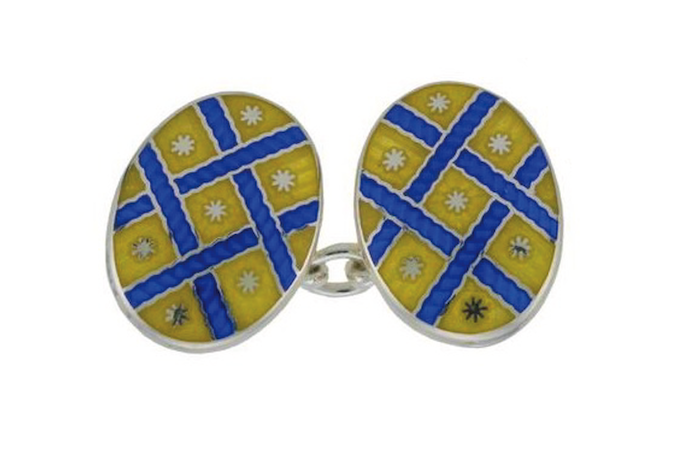 Why on Wikiconic?
Heritage.
Alternatives
Photo credits
© Deakin & Francis Ltd., Birmingham, UK
Care has been taken to trace the ownership of any copyright material and to contact the owner. The author does not intend to infringe on anyone's copyright for text, photos or otherwise. Anyone who feels that any item in these pages may have inadvertently breached their copyright should advise the author via the contact sheet, including a link to the page, so that appropriate remedial action can be taken.