Founded in 1949 by Adolf 'Adi' Dassler, Adidas is a designer and manufacturer of sports shoes, clothing and accessories. Designed in collaboration with German soccer star Franz Beckenbauer, the now iconic tracksuit was launched in 1967. Its was Adidas' first piece of apparel and opened a whole new business to the company.
Combining synthetic nylon fabrics, these early designs set up the foundations for the modern-day tracksuit: a monochromatic pant and jacket set. Earlier models from Adidas even featured classic stirrups (see below). In the days, the track suit was worn almost exclusively before or after sports. In the 1970s tracksuits began to blend with fashion.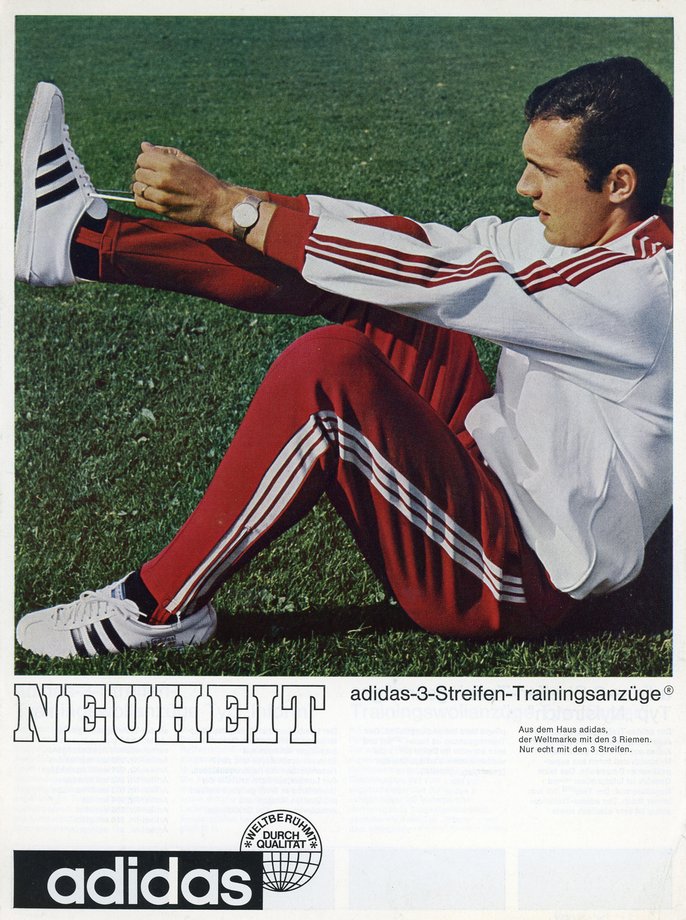 Why on Wikiconic?
Heritage.
Alternatives
Photo credits
© Adidas, Herzogenaurach, Germany
Care has been taken to trace the ownership of any copyright material and to contact the owner. The author does not intend to infringe on anyone's copyright for text, photos or otherwise. Anyone who feels that any item in these pages may have inadvertently breached their copyright should advise the author via the contact sheet, including a link to the page, so that appropriate remedial action can be taken.