Faber-Castell
Polychromos (1908)
Founded in 1761 by Kaspar Faber, Faber-Castell is one of the world's largest and oldest manufacturers of pencils and art supplies. In 1900, when the Faber family married into the noble Castell family, the company renamed itself Faber-Castell and added the jousting knight of the Castells' coat-of-arms to its logo.
Launched in 1908 in 60 different hues, the iconic Polychromos ('many colours') were the world's first artist-quality coloured pencils. Today, the pencils come in 120 vibrant colors and still stand for best of class quality. Karl Lagerfeld, Daniel Hechter and Ferdinand Alexander Porsche were all avid Polychromos users.
Pictured below are Polychromos' first 60 coulours (chart from 1909):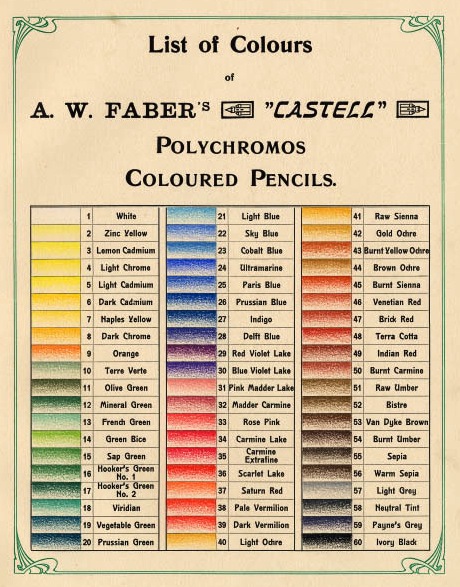 Why on Wikiconic?
Heritage.
Alternatives
Blerol's Prismacolor (1938).
Photo credits
© Faber-Castell AG, Stein, Germany
Care has been taken to trace the ownership of any copyright material and to contact the owner. The author does not intend to infringe on anyone's copyright for text, photos or otherwise. Anyone who feels that any item in these pages may have inadvertently breached their copyright should advise the author via the contact sheet, including a link to the page, so that appropriate remedial action can be taken.