Faema
Faema E61 (1961), Carlo Ernesto Valente
Founded in 1945 by Carlo Ernesto Valente, Faema (Fabbrica Apparecchiature Elettromeccaniche e Affini) is an Italian manufacturer of espresso machines. Designed in 1961, the Faema E61 is their most legendary espresso machine. The E61 introduced many innovations that are still commonly found in most espresso machines today:
* It was the first machine to use a water pump to give the ideal pressure of 9 atmospheres, replacing the piston-lever designs of the 1950s;
* it infused the ground coffee with hot water before starting the extraction, thus ensuring the best extraction of aromatics substances;
* it had a new grouphead that was kept warm by circulating water from the boiler through the grouphead in a thermosyphon circuit.
The E61 grouphead in particular created a new level of home espresso quality for consumers and created a new home espresso machine market. In 1995, Faema was taken over by its leading Italian competitor, Cimbali.
A quick an dirty shot of the E61's stunning behind: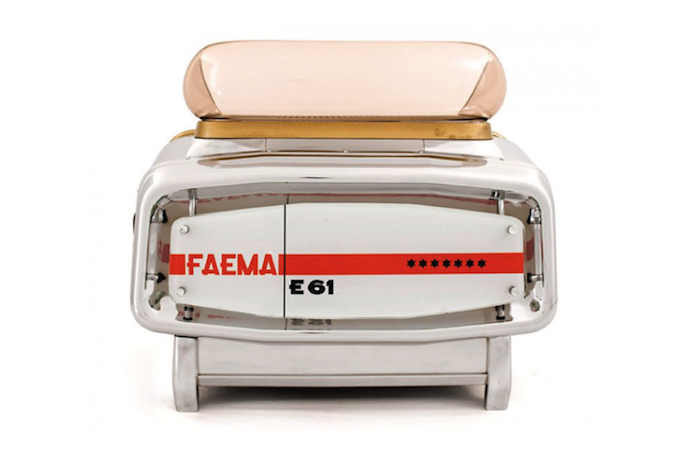 Why on Wikiconic?
Innovation.
Alternatives
Photo credits
© Gruppo Cimbali SpA, Milan, Italy
Care has been taken to trace the ownership of any copyright material and to contact the owner. The author does not intend to infringe on anyone's copyright for text, photos or otherwise. Anyone who feels that any item in these pages may have inadvertently breached their copyright should advise the author via the contact sheet, including a link to the page, so that appropriate remedial action can be taken.