PING
Anser (1966), Karsten Solheim
Founded in 1967 by Karsten Solheim, Ping is an American manufacturer of golf equipment, especially known for making the most iconic putter model, the Ping Anser. The company name 'Ping' came from the sound that Solheim heard as the metal struck the ball.
Designed in 1966, the iconic Ping Anser was first brought into play at the PGA Tour's Phoenix Open. Players such as George Archer, Kermit Zarley and Gene Littler showed interest and would soon put it in play. Even Tiger Woods won several major amateur championships over at least a six or seven year span with a steel Ping Anser 2.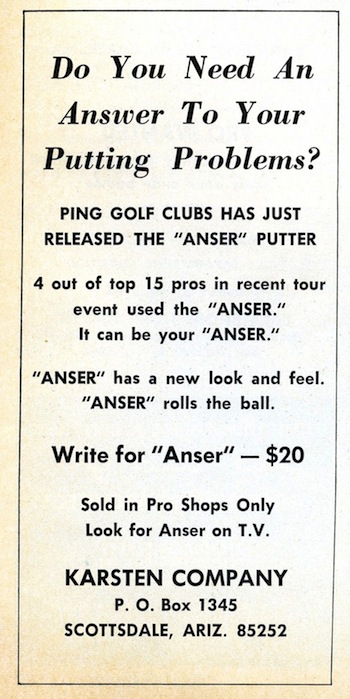 Why on Wikiconic?
Innovation.
Alternatives
Photo credits
© PING, Phoenix, US
Care has been taken to trace the ownership of any copyright material and to contact the owner. The author does not intend to infringe on anyone's copyright for text, photos or otherwise. Anyone who feels that any item in these pages may have inadvertently breached their copyright should advise the author via the contact sheet, including a link to the page, so that appropriate remedial action can be taken.