Caran d'Ache
Swiss Pencil-Sharpening Machine (1933)
Founded in Geneva in 1915, when Arnold Schweitzer purchased the Ecridor Pencil Factory, Caran d'Ache is a Swiss manufacturer of art and luxury writing instruments. Schweitzer named his company after the nickname of a French satiric political cartoonist, Karandash (the Russian word for pencil).
In 1933 Caran d'Ache launched its first a sharpener: the Swiss Pencil-Sharpening Machine, which weighed in at 1.1 kilograms. At the time, dull pencils were commonly pointed with small, hand-cranked prism sharpeners, which created brittle and crooked tips. The Swiss-made utensil produced a perfectly pointed tip. Eighty-two years down the line, the time-tested tool still looks the same and functions similarly.
Why on Wikiconic?
Heritage, design.
Alternatives
Designed in 1955, the wall-mounted Boston Ranger 55 is a real cult object. A new version is available today from X-ACTO, but for some reason people just want the vintage Ranger 55, making them highly collectable on eBay.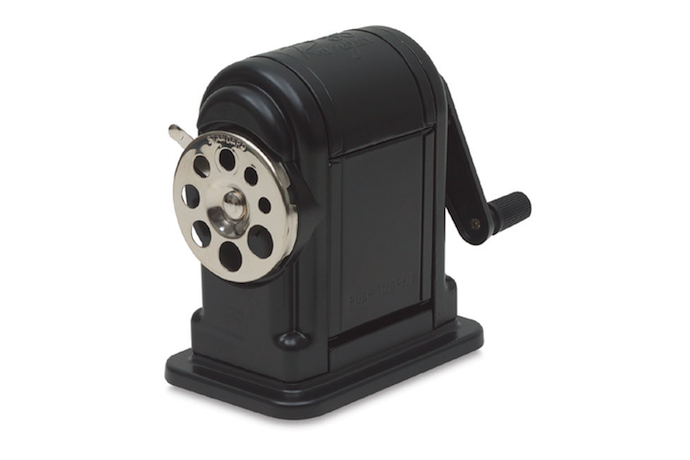 Photo credits
© Caran d'Ache, Geneva, Switzerland
Care has been taken to trace the ownership of any copyright material and to contact the owner. The author does not intend to infringe on anyone's copyright for text, photos or otherwise. Anyone who feels that any item in these pages may have inadvertently breached their copyright should advise the author via the contact sheet, including a link to the page, so that appropriate remedial action can be taken.