Founded in 1939 by Moe Nadler as the Canadian Lady Corset Company, Wonderbra is a manufacturer of underwear, mostly known for having designed the push-up bra as we know it today. The first patent of the push-up bra was granted to Israel Pilot in 1941. Pilot was also the first to coin the name Wonder-bra. When this patent expired, Moe Nadler successfully acquired the Canadian, European, and Asian rights to the Wonderbra trademarks.
In 1961, Wonderbra introduced the model 1300, a deeply plunged version of the original push-up design. This bra became one of the best-selling styles and is virtually identical to today's Wonderbra. In 1992, this style became a unexpected hit with British women and sales took off, accounting for 12.5% of the UK branded bra market. In 1994, Wonderbra launched the iconic Hello Boys campaign, which presented model Eva Herzigová in a Wonderbra gazing down at her breasts with the caption 'Hello Boys'. The poster was voted in at number 10 in a V&A Poster of the Century contest.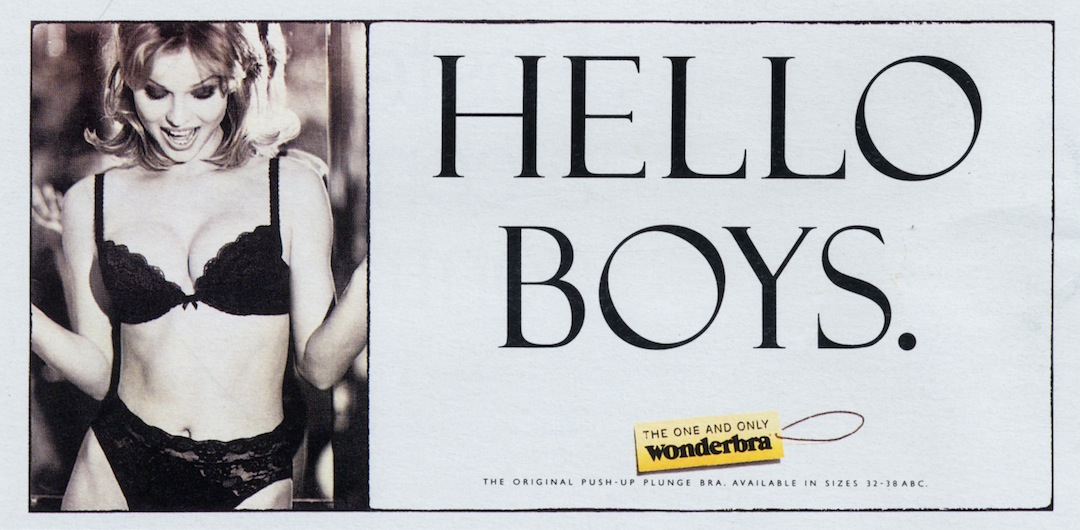 Why on Wikiconic?
Heritage.
Alternatives
Photo credits
© HanesBrands Inc., Winston-Salem, US
Care has been taken to trace the ownership of any copyright material and to contact the owner. The author does not intend to infringe on anyone's copyright for text, photos or otherwise. Anyone who feels that any item in these pages may have inadvertently breached their copyright should advise the author via the contact sheet, including a link to the page, so that appropriate remedial action can be taken.