Flos
Taccia (1962), Achille & Pier Giacomo Castiglioni
Designed in 1962 by Achille and Pier Giacomo Castiglioni and manufactured by Flos, the famous Taccia lamp is the most iconic table lamp for indirect lighting. The Taccia consists of a a spun-aluminum reflector base and a blown glass diffuser. The light can be adjusted by positioning the diffuser as necessary.
In 1958, the Castiglioni brothers created a prototype with a white opaque plastic reflector and a support bowl, also made from transparent plastic. After a series of tests, they excluded the possibility of using plastic because the heat emitted by the concentrated light source deforms the supporting bowl. Together with manufacturer Flos, the brothers created a final version using a bowl in transparent glass, resistant to high temperature.
Castiglioni's industrial background is evident in this design: the Taccia has illusion of an upside-down hanging factory lamp.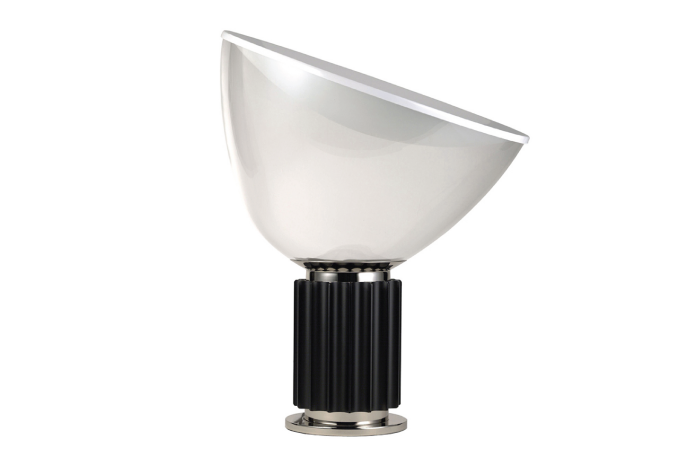 Why on Wikiconic?
Design.
Alternatives
Photo credits
© Flos Spa, Bovezzo, Italy
Care has been taken to trace the ownership of any copyright material and to contact the owner. The author does not intend to infringe on anyone's copyright for text, photos or otherwise. Anyone who feels that any item in these pages may have inadvertently breached their copyright should advise the author via the contact sheet, including a link to the page, so that appropriate remedial action can be taken.