Monotype GmbH
Helvetica (1957), Max Miedinger & Eduard Hoffmann
Designed in 1957 by Swiss typeface designer Max Miedinger with help from Eduard Hoffmann, Helvetica is one of the most iconic typefaces of the 20th century. It is influenced by the famous typeface Akzidenz-Grotesk, which was developed by Berthold in 1896.
Originally, Helvetica was called Neue Haas Grotesk as Miedinger and Hoffmann worked at the Haas type foundry. It was licensed by Linotype and renamed Helvetica in 1960 to make the font more marketable internationally. Helvetica was designed in post-war Europe, when many companies were looking for a change. It was the opposite of all the kitschy, fancy, decorative typography that covered corporate materials and advertisements. It was created specifically to be neutral, to not give any impression or have any meaning in itself. This neutrality has been paramount in its success.
A selection of companies who use Helvetica in their logo's: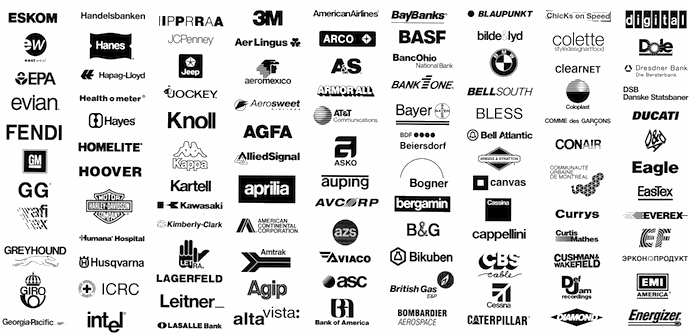 Why on Wikiconic?
Design.
Alternatives
Photo credits
© Monotype GmbH, Bad Homburg, Germany
Care has been taken to trace the ownership of any copyright material and to contact the owner. The author does not intend to infringe on anyone's copyright for text, photos or otherwise. Anyone who feels that any item in these pages may have inadvertently breached their copyright should advise the author via the contact sheet, including a link to the page, so that appropriate remedial action can be taken.