Founded in 1823 by cobbler William Gilbert, Gilbert is the leading manufacturer of sports equipment for rugby union and netball. Together with Richard Lindon, Gilbert was instrumental in the development of the rugby ball. In 1875, they started experimenting with rubber inner-tubes instead of the usual pig's bladders. Gilbert grew out to become the official ball supplier of the Rugby World Cup 2015 and is the current long-standing official rugby ball of England, Wales, Scotland, Australia, South Africa, France, Italy and Argentina.
In 1994, Gilbert started with the trademark coloured trims on rugby balls, now synonymous with the brand and rugby balls in World Rugby. In 2002, after experiencing financial difficulties following a management buyout, Gilbert was purchased by Grays International.
Trivia:
* Rugby is divided into two main codes: Rugby League and Rugby Union. The split occurred in the 1890s, when Northern English clubs decided to compensate working-class players who could not afford to take time off from work in order to play sports. This move was not approved by the Rugby Union who was against any payment for players. Subsequently, the Northern clubs started a league of their own: the Rugby League.
You can safely say that Rugby Union and Rugby League are divided along class lines. Rugby League is more popular amongst working-class sportsmen. In contrast, Rugby Union is played in grammar schools, public schools and at university.
Rugby League has its own iconic game ball, manufactured by Steeden: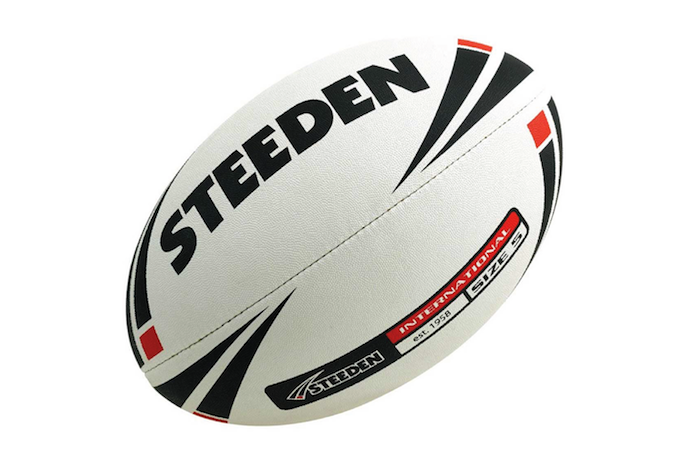 Why on Wikiconic?
Heritage.
Alternatives
Photo credits
© Gilbert Rugby, Robertsbridge, UK
Care has been taken to trace the ownership of any copyright material and to contact the owner. The author does not intend to infringe on anyone's copyright for text, photos or otherwise. Anyone who feels that any item in these pages may have inadvertently breached their copyright should advise the author via the contact sheet, including a link to the page, so that appropriate remedial action can be taken.