Roger Vivier
Established 1954
Roger Henri Vivier (1903-1998) was a French shoe designer, credited with the design of the first stiletto heel in 1954. In 1937, Roger Vivier opens his boutique at 22 rue Royale in Paris. He starts designing footwear for the greatest fashion houses in the world. In 1953, Christian Dior launches a footwear division and hires Roger Vivier as shoe designer. For the first time in history, a couturier overtly associates his brand with that of a shoemaker with the purpose of promoting a mass-market shoe line. Vivier grew out to become 'the Fabergé of Footwear'.
Thin high heels were around in the late 19th century, but Vivier revived and optimized this style by using a thin rod of steel, the Aiguille stiletto (as pictured above) was born. Ava Gardner, Marlene Diettrich and Gloria Guinness were amongst his clients, and he designed the shoes for Queen Elizabeth II for her coronation in 1953.
Trivia:
* in addition to the stiletto heel, Vivier also experimented with other shapes. Another iconic design is the silver buckled Pilgrim pump, worn by Catherine Deneuve in the film Belle de Jour (1967), which received international publicity and many imitations. Below a picture of Catherine Deneuve and Ines de la Fressange both wearing Pilgrim pumps.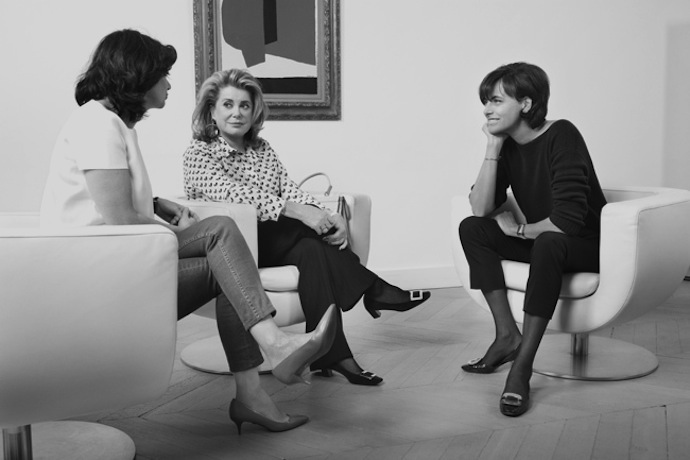 Why on Wikiconic?
Heritage.
Alternatives
Photo credits
© Tod's S.p.A., Sant'Elpidio a Mare, Italië
Care has been taken to trace the ownership of any copyright material and to contact the owner. The author does not intend to infringe on anyone's copyright for text, photos or otherwise. Anyone who feels that any item in these pages may have inadvertently breached their copyright should advise the author via the contact sheet, including a link to the page, so that appropriate remedial action can be taken.