Bovirke
FJ Sideboard (1955), Finn Juhl
Finn Juhl (1912–1989) was a pioneer within Danish furniture design and the Danish Modern movement. He was well known outside of Denmark early on, because he furnished a large delegates rooms at the UN building and was represented at the Museum of Modern Art. His furniture was among the first to make Danish Modern an international phenomenon.
Designed in 1955 for Bovirke, the sideboard with coloured sliding doors and trays is his most iconic piece. The colour elements reflected his fascination with Goethe's famous colour circle, which placed the colours in a harmonious cohesion. The FJ Sideboard is recently relaunched by Onecollection A/S.
Cubist wood cabinets, which seem to float on delicate steel frames with wood feet, are a central theme in Danish design. If you are looking for a less colorful sideboard, Wikiconic recommends the no.26 by Fin Juhl's apprentice, Arne Vodder: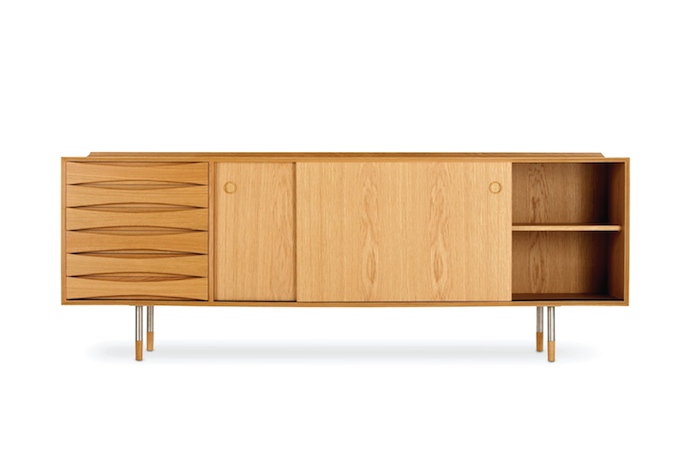 Why on Wikiconic?
Design.
Alternatives
Photo credits
© Onecollection A/S, Ringkøbing, Denmark
Care has been taken to trace the ownership of any copyright material and to contact the owner. The author does not intend to infringe on anyone's copyright for text, photos or otherwise. Anyone who feels that any item in these pages may have inadvertently breached their copyright should advise the author via the contact sheet, including a link to the page, so that appropriate remedial action can be taken.