KitchenAid
Established 1919
Founded in 1919 by The Hobart Corporation to produce stand mixers, KitchenAid is now an American home appliance brand owned by Whirlpool Corporation. In the 1930s they introduced its trademarked silhouette, the model 'K', designed by Egmont Arens. It has changed little in design since, and attachments from the model 'K' onwards are compatible with the modern machines.
The stand mixer was initially invented by Herbert Johnston, an engineer working at the Hobart Corporation. He was inspired after seeing a baker mix dough, and thought that there must be a better way of doing the task. In 1914, development began, and the 'H-5' model was the first stand mixer he introduced. The first machine to carry the KitchenAid name was the C-10 model, introduced in 1918 and built at Hobart's Troy Metal Products subsidiary in Springfield, Ohio. Prototype models were given to the wives of factory executives, and the product was named when one stated 'I don't care what you call it, but I know it's the best kitchen aid I've ever had!'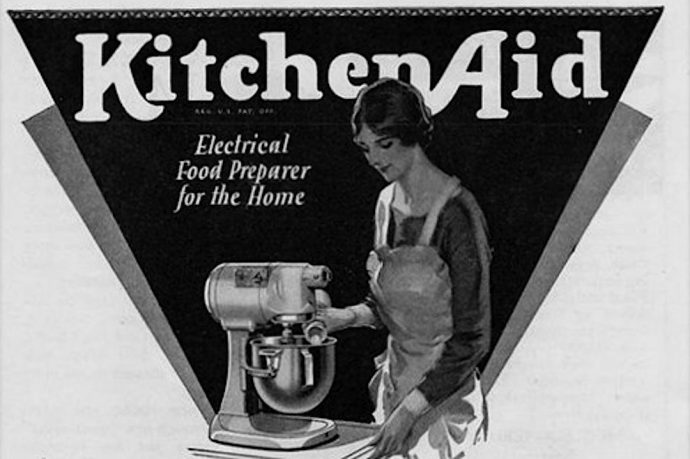 Why on Wikiconic?
Heritage, design.
Alternatives
Ankarsrum Original. For its snob appeal.
Photo credits
© Whirlpool Corporation, Benton Charter Township, US
Care has been taken to trace the ownership of any copyright material and to contact the owner. The author does not intend to infringe on anyone's copyright for text, photos or otherwise. Anyone who feels that any item in these pages may have inadvertently breeched their copyright should advise the author via the contact sheet, including a link to the page, so that appropriate remedial action can be taken.